Twin Caliber Competition


Twin Caliber is a 3rd person action-shooter equipped with a unique, innovative style of game play. Played in either single or co-operative player modes, Twin Caliber allows you to independently control two weapons via the analogue joypad that can be used simultaneously as you blaze your way through a mysterious town trying to uncover the secret of an evil cult..

To celebrate its release, Homepage of the Dead is running a competition offering three prize packs. One lucky individual in the UK will win the special prize pack, while two runners up (from any on the planet) will one of the runner up prize packs.


A United Kingdom resident will win:-
A framed original piece of zombie concept artwork signed by the Twin Caliber team. (See below)
A copy of Twin Caliber for the Play Station 2.
A Twin Calibre Music CD.
A Twin Calibre T-Shirt.

Two runners up will win:-
A Twin Calibre Music CD.
A Twin Calibre T-Shirt.
| | | |
| --- | --- | --- |
| | COMPETITION: Twin Calibre Prizes | |

The winners were Pete Bridekirk, Ross Evans and Carrie Ana.


The question for the competition was:-
"How many levels does Twin Caliber have?"

The answers available were:-

Eighteen. (Received 9% of the votes)

Twenty-Two. (Received 4% of the votes)

Twenty-Six. (Received 87% of the votes)

If you're wondering which was the correct answer, it was... 26.




- Twin Caliber is available in stores now for the Play Station 2 -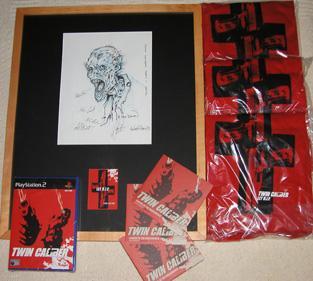 Hits: 7314 since 10-Dec-2002