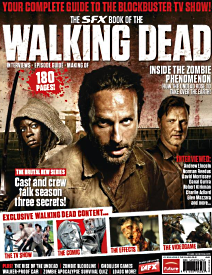 SFX's The Walking Dead Competition


Homepage of the Dead has five copies to give away of SFX's guide to The Walking Dead, and one lucky winner from the UK will also receive a copy of the Season 2 DVD box set of The Walking Dead.


Your complete guide to the hit TV show plus the entire zombie phenomenon, from the makers of SFX magazine.

In this time of economic uncertainty, the question on everyone's minds seems to be: "How will I survive the zombie apocalypse?" It's a valid question, and you probably won't care about your mortgage arrears when zombies are climbing up the side of your house. The insurance probably won't cover it either.

So, we've put together The SFX Book Of The Walking Dead in an attempt to not only give you a complete guide to the TV show, but also to help prepare you for that fateful day when zombies try to eat your children. It'll be on sale from this weekend and on shelves throughout the run of the TV show this year.
| | | |
| --- | --- | --- |
| | COMPETITION: SFX's The Walking Dead Competition | |

Competition Closed!
The winners were Phil Newbury, Nick Thomson, Robert Morganbesser and Nancy King, while Rich Wyburn also picked up the DVD boxset.


The question for the competition was:-
"How many pages are in the SFX guide to the "The Walking Dead"?"

The answers available were:-

'100'

'150'

'180'

The correct answer was of course 180 inches. Well the answer was only click away :)

Hits: 3973 since 29-Sep-2012