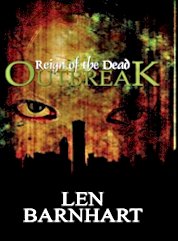 Reign of the Dead: Outbreak Competition


Homepage of the Dead is pleased to be offering a signed copy of Len Barnhart's latest addition to the 'Reign of the Dead' saga.

The day is any day now. The time: 1 A.M. The place, New York's Downtown University Hospital.

A major pileup on interstate Seventy has put an already short-handed medical staff into an all out panic as victim after victim show up hanging on to life by mere threads. Doctor Adam Riker and his staff work frantically to save them to no avail. Many die on the operating tables.

In the back streets across town, Duane Rogers and Chuck Longfellow watch from the shadows as street gangs clash in a deadly battle. As one by one fall, the gangs are unaware of an approaching horror. The metropolitan area of New York city is home to eight million people. In a very short period of time, most of them will be dead. There's a plague coming and it is like nothing the world has ever seen. This time there will be no cure. No corner of the Earth is unaffected, and precious little time remains as civilization and the forces of reason collapse.



| | | |
| --- | --- | --- |
| | COMPETITION: Reign of the Dead: Outbreak novel | |

Competition Closed!
The winner will be announced shortly...


The question for the competition was:-
"Which of the following is not a character in the book?"

The answers available were:-

'Dr. Adam Riker' (Received 3% of the votes)

'Michael Longley' (Received 2% of the votes)

'Dr. John Malone' (Received 95% of the votes)

The correct answer was of course 'Dr. John Malone'. Well the answer was only a click away at the website :)

Hits: 1839 since 15-Aug-2010