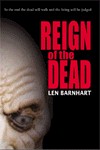 Reign of the Dead Competition


Homepage of the Dead is pleased to be offering a copy of Reign of the Dead in a free draw.

This apocalyptic novel focuses on a group of survivors in a small Virginia community. It illustrates their fears and pathos as well as their ingenuity and courage. In the face of unimaginable horror the indomitable human spirit prevails. Is the plague God's doing or has man brought this fate upon himself? The story illustrates the lives of six key characters who, in addition to fighting the walking specters of a lost civilization, must overcome inner demons as well. If you'd like to learn more about this novel then click here to visit the novel's website.


| | | |
| --- | --- | --- |
| | COMPETITION: Copy of Reign of the Dead | |

Competition Closed!

The winner was Gary Howlings.
Hits: 7395 since 20-Dec-2001