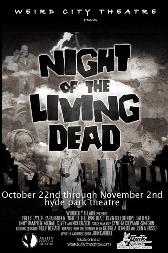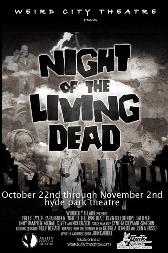 Night of the Living Dead Stage Adaptation


Homepage of the Dead is pleased to be offering a pair of tickets to see a performance of 'Night of the Living Dead' by 'Weird City Theatre' at the Hyde Park Theatre (Austin, Texas). The winner can choose to attend a performance either on October 22nd (Wed) or October 31st (Fri).

As the performance is in Austin Texas (Hyde Park Theatre, 511 West 43rd Street, Austin, Texas 78751), please only enter if you can attend the theatre on one of those evenings.





| | | |
| --- | --- | --- |
| | COMPETITION: NotLD Stage Adaptation | |

Competition Closed!
The winner will be announced shortly.


The question for the competition was:-
'What date is the opening night of the stage adaptation?'

The answers available were:-

20th (Received 1% of the votes)

21st (Received 0% of the votes)

22nd (Received 99% of the votes)


The correct answer was of course the 22nd. Well the answer was only a click away at the website, and even in the image above! :)


Hits: 1997 since 26-Sep-2008