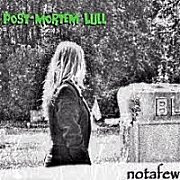 Not A Few - Post-Mortum Lull


Homepage of the Dead is pleased to be offering two copies of Not A Few's CD single "Post-Mortum Lull."

A homage to George A. Romero's 1968 classic film Night of the Living Dead. Features samples from the soundtrack, as well as spacey keyboard, talk-box, and other unique effects.



| | | |
| --- | --- | --- |
| | COMPETITION: Post-Mortum Lull | |

Competition Closed!
The winners were Andrew King and Kel Gladding.


The question for the competition was:-
"Who is not in 'Not A Few?"

The answers available were:-

'Jeramie Gorman'

'Philip Mundon'

'Allen Lighthiser'

The correct answer was of course 'Allen Lighthiser.' Well the answer was only a click away at the website :)

Hits: 1842 since 10-Jul-2011