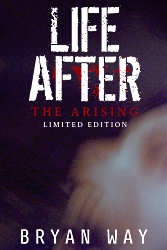 Life After: The Arising


Homepage of the Dead is pleased to be offering two signed copies of Bryan Ways 'Life After: The Arising.' These are first edition copies from a limited pressing of just 100 books!

"In a scientific and spiritual sense, humanity has its world ordered, but that order slowly descends into chaos when something defies the tenets of both, leaving the events of human history divided into life before and life after the bodies of the dead began to reanimate.

A college student comes home to be confronted by something he'd only read about in fiction and seen in movies: Zombies. Despite lungs beset by asthma and a total lack of survival skills, his lifelong desire to endure an undead apocalypse sees him unite a small group of acquaintances, but with the town quarantined as emergency infrastructure breaks down, everyone will have to grow up fast if they want to see a life after the arising..."



| | | |
| --- | --- | --- |
| | COMPETITION: Life After: The Arising | |

Competition Closed!
The winners were Charlie Buhman Jr and Gregg McCubrey.


The question for the competition was:-
"What is the name of the college student who serves as the novel's protagonist?"

The answers available were:-

Adam Grey

Bill Grey

Jeff Grey


The correct answer was of course "Jeff Grey". Well the answer was only a click away at the website :)


Hits: 4071 since 1-Jul-2013