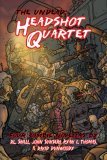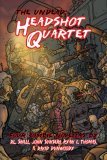 The Undead: Headshot Quartet competition


Homepage of the Dead is pleased to be offering a copy of the 'The Undead: Headshot Quartet' novel from Permuted Press.

This is the fourth volume in the Undead series from Permuted Press, and 'Headshot Quartet' mixes things up a bit - fitting for volume four of the series - as instead of an anthology of short stories, this book features four novellas. Four brutal, action-packed tales of zombie hordes across the world.



| | | |
| --- | --- | --- |
| | COMPETITION: Headshot Quartet | |

Competition Closed!
The winner was Brian DeGroat.


The question for the competition was:-
'Which one of the following stories is not in the book?'

The answers available were:-

Million Dollar Money Shot (Received 2% of the votes)

Shamblers (Received 94% of the votes)

Enemy Unseen (Received 4% of the votes)


The correct answer was of course 'Shamblers'. Well the answer was only a click away at the website :)


Hits: 2632 since 20-Apr-2008