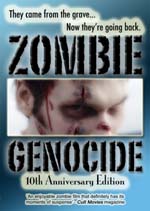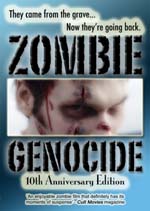 Zombie Genocide DVD Competition


To celebrate Midnight Pictures' release of their Zombie Genocide Ten Year Annniversary DVD, Homepage of the Dead is pleased to be offering a copy as a prize in a competition. Please note: This DVD is region 0, PAL.

Four friends return to suburbia after camping out in a local woodland. It's early morning and the streets are empty, as you'd expect. But all is not as it seems. A horrifying disaster has happened in their absense. What follows is a fight for survival against the living dead and a desperate flight to safety. However, a more lethal threat arises - the whole town is a time-bomb waiting to explode, and none of them know it!




| | | |
| --- | --- | --- |
| | COMPETITION: Zombie Genocide DVD | |

Competition Closed!
The winner was Graeme Robson.


The question for the competition was:-
"How many minutes of extras are there on the DVD?"

The answers available were:-

8 minutes (Received 8% of the votes)

15 minutes (Received 7% of the votes)

21 minutes (Received 85% of the votes)


The correct answer was of course 21 minutes. Well the anwser was only a single click or two away at the website :)

Hits: 15579 since 6-Jan-2004