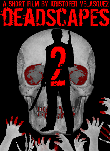 Deadscapes: Episode 2 DVD competition


Homepage of the Dead is pleased to be offering a copy of 'Deadscapes 2' on DVD, which is Kristofer Velasquez's eagily anticipated second installment of his 'Living Dead' short films.

In this episode, a killer walks the streets of a suburban neighborhood randomly choosing his next victims. Tonight, things take a strange turn for the worse. The recently dead have been returned to life and attacking the living. As civil unrest peaks, it's business as usual for Carl, the murderous stranger who makes house calls.

Meanwhile, Lisa leaves work for home as chaos is unfolding everywhere. She encounters Carl and the grizzly scene at her home. Both have had a brush with death that defies logic and reason. The line between victim and killer is blurred as the tale escalates and the shocking conclusion unfolds.



| | | |
| --- | --- | --- |
| | COMPETITION: Deadscapes Episode 2 DVD | |

Competition Closed!
The winner was Heidi Grant...


The question for the competition was:-
'What is the 'featurette' on the DVD?'

The answers available were:-

Zombie Featurette (Received 3% of the votes)

Headshots Featurette (Received 96% of the votes)

Soundtrack Featurette (Received 1% of the votes)


The correct answer was of course 'Headshots Featurette'. Well the answer was only a click away at the website :)


Hits: 2827 since 19-Nov-2007