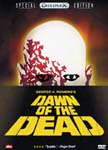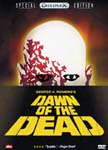 Dawn of the Dead DVD Competition


To celebrate Anchor Bay Entertainment's latest release of Dawn of the Dead on DVD (hitting the stores in March), Homepage of the Dead is pleased to be offering five copies on this new DiviMax disc. Please note: This DVD is region 1, NTSC.

Anchor Bay is proud to present the thrilling Theatrical Version of Romero's masterpiece, now featuring an all-new High-Definition DiviMax™ transfer remastered in 5.1 DTS & Dolby Digital Surround Sound and featuring a startling new commentary by the director himself. This is DAWN OF THE DEAD like you've never seen or heard it before.




| | | |
| --- | --- | --- |
| | COMPETITION: Dawn of the Dead DVD | |

Competition Closed!
The winners were Tobias Wokan, Jeff Roper, David King, Martin Yates and Ryan Andrukonis.


The question for the competition was:-
"This DVD includes a collector's booklet. How many pages does it have?"

The answers available were:-

Two pages (Received 4% of the votes)

Three pages (Received 2% of the votes)

Four pages (Received 94% of the votes)


The correct answer was of course four pages. Well the anwser was only a single away at the website :)


Hits: 13526 since 6-Mar-2004