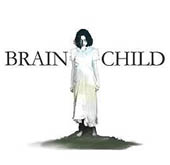 Brainchild: A Collection of Artifacts


Homepage of the Dead is pleased to be offering two copies of "Brainchild". They are number 180 and 181 from the first print of a limited edition of 250.

What immediately strikes you while paging through this book is that it is not a typical anthology. As the title suggests, the book really is a fictional "collection of artifacts", cleverly arranged to make you feel as though you are actually holding the jumbled thoughts of the scattered survivors.

The harried and fragmentary nature of the contributions serves to document the horror of the events unfolding around them as they rushed out the door to whatever safety they could find.

It becomes evident as you read that there is a subtle but definite progression to the book. A quiet order emerges as the tales and imagery go from reflections of initial shock and terror to determined resolve and adaptation.



| | | |
| --- | --- | --- |
| | COMPETITION: Brainchild - A Collection of Artifacts | |

Competition Closed!
The winners were Sundesh Hemraj and Mike Toye.


The question for the competition was:-
"How many pages are in the anthology?"

The answers available were:-

60 (Received 2% of the votes)

62 (Received 5% of the votes)

64 (Received 93% of the votes)


The correct answer was of course 64. Well the answer was only a single click away at the website :)


Hits: 5347 since 4-Jun-2006