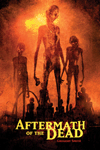 Aftermath of the Dead Novel


Homepage of the Dead has two copies of Gregory Smith's living dead novel up for grabs.

Unleashed without warning; an unknown chemical which when exposed causes the dead to rise and destroy the living. The results; a horrifying quick outbreak, which spares no one it encounters. Populations devastated, as the creatures destroy all semblance of society.

Left over, the aftermath is a realm that is molded after the new ruling species. Aftermath of the Dead concerns the plight of what happens to the residents of St. Louis. The story of how the residents are forced to deal with and somehow survive this new reality. Deep inside themselves, people have the same sense, that there is no way in which to overcome the creatures!



| | | |
| --- | --- | --- |
| | COMPETITION: Aftermath Of The Dead Novel | |

Competition Closed!
The winners were Keir Knowles and Adam Chapman.


The question for the competition was:-
"What highway does the story begin on?"

The answers available were:-

Highway 11 (Received 1% of the votes)

Highway 33 (Received 3% of the votes)

Highway 44 (Received 96% of the votes)


The correct answer was of course "Highway 44". Well the answer was only a single away at the website :)


Hits: 10583 since 6-Sep-2005