Soundtrack of the Dead: Based on and inspired by George A. Romero's Day of the Dead

Listen to the soundtrack via the Youtube video to the right ---->

The following article is by Tom Jenner of Seven Strangers...

"Soundtrack of the Dead - Music by: Seven Strangers" was recorded between 2000/2001. The album was recorded analog; no form of Pro Tools were used to create any of the sounds you hear. After a digital transfer and some slight remastering a couple years back, I approached John Amplas, who gave it his blessing, and the album was handed out at a horror convention in Seattle. Multiple fans and cast members of Day of the Dead are in possession of physical copies of the album and it has received very favorable reviews.

The instruments used were probably fewer than you might think: A Roland JX-3p synth, bass guitar, various drums/percussion, sampler, a DOD Multi-Effects processor and an 8-track recorder. No vocals of any kind. Also, it should be noted that very few overdubs were done; the vast majority of tracks were recorded live. It took approximately 2 months to record all the music and arrange all the samples, etc. It is in many ways the ultimate love letter to Day of the Dead. Have you ever in your life wanted to watch/listen to Day of the Dead while driving? We got you covered!

As for the why? We had always been hugely influenced by John Carpenter, Goblin soundtracks and all things George Romero. Barry and I had branched off from our main band "moneygrip," started "Seven Strangers", and made an album called "Songs from the Grid" which plays out much like a soundtrack/score. We continued writing music in the soundtrack/score vein for our follow up and after a few songs we began talking about how interesting it would be to incorporate clips specifically from Day of the Dead. At that point we sampled clips from the film, which we already knew like the back of our hands, and it really just started to fall into place. Believe me when I say we were absolutely ecstatic with how perfect the samples fit with the music. So, the decision was made "Let's tell the chronological story of Day of the Dead and summarize the whole trilogy over our music!" The rest is pretty much history.

There are plans for the near future to re-release it as an Anniversary Edition 2-disc set with a brand new remastered mix and a second disc devoted to the instrumental versions of the tracks – this has been a constant request. But that is still a little ways off. Currently, we are both working on solo material, which tend to be in the avant-garde/soundtrack vein themselves. We were recently commissioned to score a horror film directed by Joe Barbarisi called "Flowers for the Dead" so new music by Seven Strangers could be arriving as soon as this year!


---

Nearly a year has passed since bodies of the recently dead began returning to life. The undead now outnumber human population by 400,000 to 1. The U.S. government has set up a team of military personnel and scientists in an underground military base to prolong the existence of the human race, and perhaps find a cause or cure for the phenomenon.

However, being trapped underground does strange things to people...

Scenes:-
1. Returning to Life
2. "They know we're in here..."
3. Working on Instinct
4. The Meeting
5. John's Lament
6. Trapped Inside
7. Bub's Theme
8. Things Fall Apart
9. No Way Out
10. Last Rights

Seven Strangers are:
Tom Jenner: Keyboards, Bass Guitar, Percussion, Sampler
Barry Knob: Keyboards, Drums/Percussion, Sampler

All music written, performed, arranged and produced by: Seven Strangers.

All samples taken from the motion picture:-
"Day of the Dead" (1985).
Track 1 contains a sample from the motion picture:-
"Night of the Living Dead" (1990).
Tracks 2 & 10 contain samples from the motion picture:-
"Dawn of the Dead" (1978).

Facebook Fan Page: http://www.facebook.com/SevenStrangers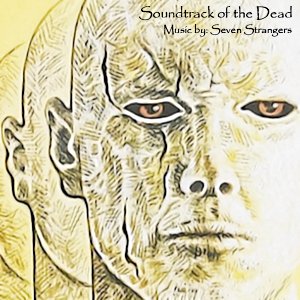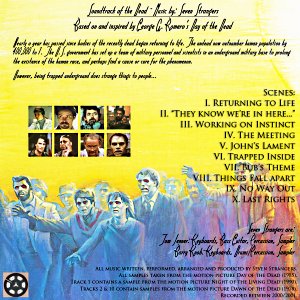 ---

(© Homepage of the Dead, February 2013)
Hits: 5415 since 8-Feb-2013