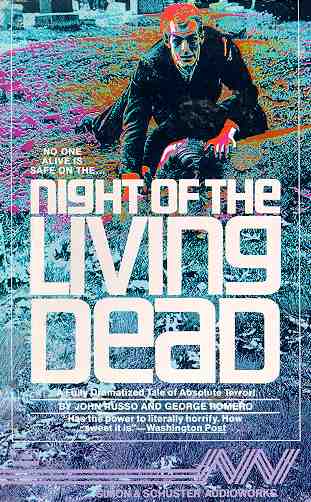 Night of the Living Dead Audiocassette
(Article by Neil Fawcett ©, added 7-Mar-1998/1-Oct-2000)


This is a 60 minute audio adaptation by Simon and Schuster Audioworks (1988) of the original 1968 classic.

In addition to actors and actresses playing the voices of the original characters it also has periodic narration. I feel this narration by Ed Bishop (Commander Stryker from UFO), along with its eerie background music, is the highlight of the tape. It starts with a classic introduction... "Once upon a time, there was a world where people walked at night and were not afraid. Where church yards were places of rest. Where marble slabs remained firm, and solid earth did not crumble and fall away. This is a story about the end of that world..."

The adaptation is relatively well produced and follows the original story line, except for a few minor changes:


One thing that George Romero cleverly never introduced into the original film was any mention of racism towards the black character of Ben. This was a great touch by Romero. However, this does crop up in this adaptation in one or two places.

One major digression from the Romero Universe is that when Karen becomes a zombie she talks, "Mummy ! Mummy, pick me up." This seems a mistake as it goes completely against the portrayal of the dead as un-intelligent monsters. The trowel does still feature though.

Although not a major point, I have to wonder why the graveyard Johnny and Barbra visit at the start of the story, and some other outdoor locations have echo.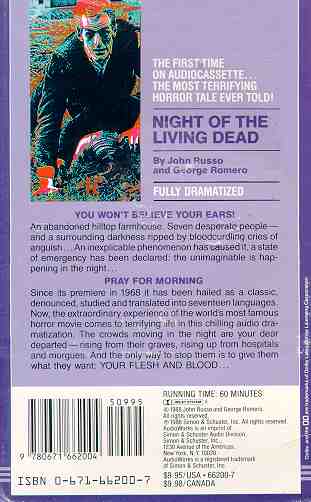 A conversion of this tape is held on this site as a zipped Real Player file, so you will need Winzip to uncompress it, and then Real Player to listen it. The file is 6.2meg in size. To download it click here!


Hits: 10692 since 18-Oct-2001