Tom Savini Lecture - December 1997
(Article by Neil Fawcett ©, added 2-Mar-1998)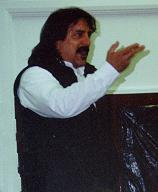 This was a very close call for me. In early December 1997 I visited the Savini website for the first time in a number of months. Quite by accident I took a link and was confronted by a page telling me that Tom Savini was coming to England and doing a lecture. Why was this so amazing? Well first of all I live in England. Second, it was Tom's first visit to the UK. Third, it was at a venure only thirty minutes drive away. Finally, it was happening in three days. I was reading the page on a Thursday and he was doing the lecture on the following Sunday!

A quick phone call secured me a seat. If I had not visited Tom's website that day and just happened to take that link I would of probably still found out about his visit, but only afterwards, and my god that would of been painful!

The majority of Tom Savini's four hour lecture consisted of watching a video tape put togethor by Tom himself. It was comprised of film clips and behind the scenes home videos of Savini's work over his career. Tom admitted that the tape was really aimed at students wishing to learn more about the art of make up special effects so some of it was over long but Tom simply fast forwarded through these parts. However, much of the tape was a real gold mine which really showed the master at work. It really did do a great job of showing how much time and effort goes into his work, how a few seconds of special effects we take for granted in a film can take days of hard work.

Periodically there would be breaks followed by question and answer sessions allowing people to ask him questions they'd always been dying to ask. During these discussions Tom was always very forth coming with information regarding his career.

During one question Tom mentioned the film NIGHTMARE (1981) for which he was hired as just a consultant. However, when the film was finally released the ads came out saying, "Special Make-Up Effects by Tom Savini." Infact the special effects were done by Lester Lorraine and he was not even credited. Tom phoned the company and said. "You've got to take my name off this movie." They replied. "How about if we just pay you to leave your name on it?" Tom said that it was not right to simply capatalise on his name and to get his name off the ads. They went around in just New York and put tape over Tom's name, however, everywhere else still had his name on the posters. The company offered Tom $25,000 to leave his name on the film but Tom refused. However, to this day it's still on there, "I should of taken the dough," Tom said smiling.

Tom also displayed a couple of his pieces of work, which you may recognise...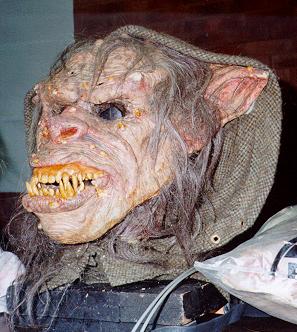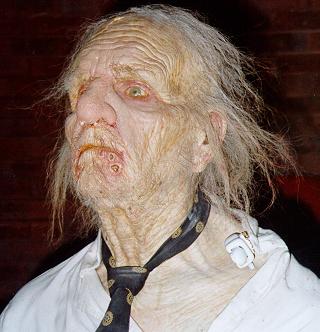 I believe Tom does lectures periodically at different venues. If you have the chance to attend I would strongly recommend it as Tom is a very eloquent and charismatic speaker.
Hits: 3690 since 25-May-2011