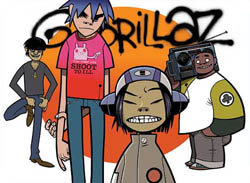 The Gorillaz and Romero
(Article by Neil Fawcett ©, added 11-Oct-2005)


The Gorillaz were described by 'Rolling Stone' magazine as the world first virtual hip-hop group. The group's real members (Damon Albarn of Blur, former Talking Heads Tina Weymouth and Chris Frantz, mixmaster Kid Koala) are portrayed as animated alter egos created by 'Tank Girl' artist Jamie Hewlett.

2-D - The lead singer of the group. Damon Albarn lends his vocal chords to bring this guy to life. Originally Stu-Pot, 2-D joined the group after Murdoc twice ploughed into him with a Vauxhall Astra. With two gaping holes for eyes, he was reborn as 2-D, the organ-obsessed zombie fanatic.
Murdoc - The self-proclaimed leader of the Gorillaz. He's the unhygienic, unethical bassist from Stoke-on-Trent. He despises 2-D, thinking that he's getting far more attention than him.
Russel - The big, surly, tough-guy American hip-hopster and drummer. He was raised to be polite and courteous, but gets some trouble from the spirits of his dead hip-hop buddies who possess him. While he's drumming away, the ghosts come out to play.
Noodle - A ten-year-old Japanese girl wielding a guitar and an English phrasebook. Noodle was given her name because it was the first English word she spoke. Not as involved as the other members, she usually keeps in the background.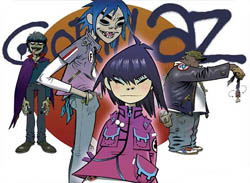 The band came to fame in March 2001 with the release of their first single 'Clint Eastward' which reached a high chart position around most of Europe, but failed to be received so well in the States (#57). The video to the track gave the first inkling that lurking in the band was potentially a Romero fan with zombified Gorillaz rising from graves.

With the release of the Abum 'Gorillaz', a clearer signal was given by the final track on the album 'M1 A1'. Over a minute of the the track features a direct sample from 'Day of the Dead'.


In 2005 their second album 'Demon Days' was released. The characters now sported a somewhat darker appearance, and the Romero references continued; The opening track of the album ('Intro') featured a classic sample from 'Dawn of the Dead', which then - coincidently? - lead into a track call 'Last Living Souls'.

The 13th track on the album was narrated by Dennis Hopper. Was it purely a coincidence that within just a few months Romero's fourth living dead film, 'Land of the Dead', appeared at cinemas with Dennis Hooper playing a lead protagonist?


The Gorillaz have a website which allows you to tour the bands virtual house ('Kong Studios'). Some clear Romero references appear:-



In a corridor an image from 'Dawn of the Dead'.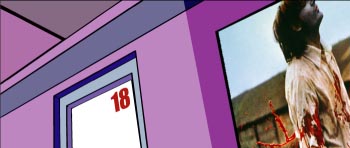 In 2D's room, you can open his computer to be greated by a
desktop comprised of images from 'Dawn of the Dead' and 'Day of the Dead'.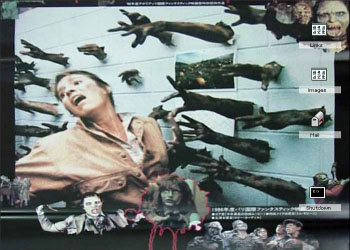 Finally, you can continue into the virtual computer's 'Link' folder...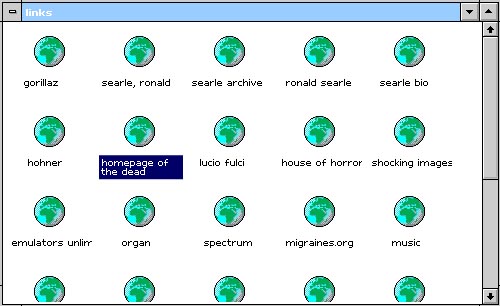 If you believe you have other Romero references made by the Gorillaz let me know...



Hits: 15732 since 11-Oct-2005